Custom Thermal Binding Covers
Custom
Thermal Covers
Choose from our large selection of universal, pre-punched, and thermal covers.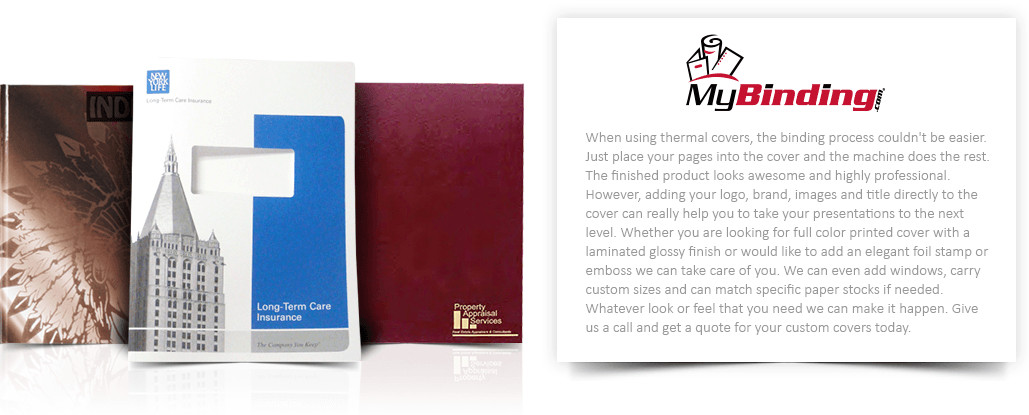 Order Now!
Call now for a quick and easy custom quote today.
Our customer service representatives are standing by to guide you through our simple ordering process and ensure your custom thermal covers arrive just as you describe. Call 1-800-944-4573 to place your order. Plan on answering the following questions, and, of course, we're happy to answer any questions you might have as well!
Custom Coil
Options
Depending on your preference of hard or soft cover, we can print practically anything you want on your custom thermal covers. Text, logos, unique artwork--you name it! Choose from a variety of print mediums including offset printing, foil stamping, silk screening, embossing, and debossing.
To make a longer lasting impression, Hard Cover Thermal Binders are the solution. Hard Cover Thermal Binders will look polished and professional.
Soft Cover Thermal Binders provide a polished and finished look to all bound documents.The thermal adhesive is pre-applied to the spine for easy binding.
Create your own yearbooks from start to finish with Pro-Bind's Yearbook and equipment. Inspire students to design and publish!
This is the perfect way to bind digital photo prints, scrapbooks and albums. A variety of sheet size options will accommodate any need.
Questions

We Will Ask You

Review the following questions to help make your ordering process run smoother.
Would you like hard or soft covers?
Cover material?
Cover dimensions?
Sheet size?
Portrait or landscape?
Base cover color?
Window?
Pocket?
Cover liner?
Do you have a graphic or logo to include?
What size?
What color?
Where do you want it located?
Cover decoration (print, foil stamp, emboss, etc.)?
Artwork provided or does it need to be re-created?